Tales from the Hair Chair
May 16
Commission vs. minimum wage: what is our time worth?
Recently, at my place of employ this issue was brought up. Since our schedule is implied and my pay is strictly commission I have found it's not in my best interest to sit waiting for possible business. In the past, I have worked for many salons that state we are independent contractors yet require the staff to be there a certain number of hours and treat them like employees. Since the issue was brought up the owner of the salon and other staff members have researched the problem. Wherein the employer got all this documentation and articles written by other salon owners, the other staff got documentation from The Department of Labor Wage and Hour division. Here's the summary of what it says.
If you are required to be in a business certain hours and perform tasks that you are not compensated for then you are an employee and are required BY LAW to make minimum wage. So if you are required to sit in a salon, answer phones, take coats, clean, do dishes ect and it's not for your personal clients then you are required legally to be compensated for your time. I know this isn't how any salon I have ever worked in has been regulated. Now if your commission is more then what your hours work vs. minimum wage would be then that's justifiable. But with salons requiring most employees to do discounts and deals it's just not balancing out.
I've spoken with many hairstylist in the past few months that agree things are getting out of hand. And if we are treated like employees and are time isn't being compensated as well as our commission being cut more than half to do discounts than that is clearly not only unlawful but discouraging. This means that for every salon you have ever worked at, if they required you to be there certain hours, if your commission did not exceed what you would have been paid for minimum wage then you can sue them for lost wages. This could mean most all salons across the US having to pay Thousands and Thousands of dollars.
The problem with the industry is that we all stand alone. There is no regulations being enforced and it's a free for all. Employers just look around and say "Well, that's how everyone else is doing it!" Never mind the legality of it.
I'm bringing up this point to get some feedback. Is it worth it to give away our time this way with the economy the way it is. Or is it time to stop taking discounts and lessen our pay to make under minimum wage just because "that's the way it's always been done?"
What are your thoughts?
Mar 12
Exciting new things to come! Classes and photoshoots!
Thank you everyone that participated in my photo shoot night! We all had a really great time and I got a lot of fantastic shots.
I am no longer taking models but thank you all for your continued interest. Because of all the inquiries about the model call I am in the process of developing a photo shoot night for anyone interested in getting hair, make-up and a professional head shot. This will all be at a very reasonable rate! I'll keep you informed as this develops more. Feel free to email me if interested and I'll personally get back to you with details!
In other fun news, I'm planning a few different events in the form of classes. I'll be teaching blow dry classes and a basics in updo class. These will be a hands on classes where I put the tools in your hands and give you the knowledge to give yourself salon perfect hair everyday! So stop watching teenagers burn their hair off on the internet and come take a class from a professional! ;)
Here's a few samples of what we did at the photo shoot. And you can see the entire series on my web site here
Mar 01
New Portfoilio web site is up and Running!
Check it out HERE!
Aug 27
Dear Fellow Hairstylists, (something for clients to consider)
Over the last few years the downturn of the economy has gotten many of you desperate for business. Because of our desperation to attract business many of you have turned to giving huge discounts. I understand just wanting butts in our chairs but it has turned to sheer madness out there. So many of these greedy discount agencies have popped up at this point it is ruining our abilities to make a decent living. The salon I currently work at gets several of these sales calls daily. When performing for these agencies you are working for faceless corporations that are just using you and your talent. They know nothing about you or your talent. They know nothing about what it takes to become good in this business. They care not for our ability to maintain the clientele necessary for us to care for ourselves. They do not consider the fact that we are independent contractors that live on commission and do not get benefits, insurance or a retirement plan. Yet they ask us to pad their pockets all the while we stand behind a chair on our feet all day breaking our bodies for a profession we love. They expect us to say thank you for stealing what we've earned in exchange for belittling our professions into below minimum wage careers. This has to STOP!
I have always advocated for my clienteles best interest as well. I understand the need to save a buck but another problem has resulted as a symptom of the discount chasing. Each salon, each stylist is different. Because all of our skill set differs and because each color line differs the quality of this clients hair is then compromised. The clients hair is being ruined. Not everyone has the same level of pride and professionalism when it comes to the discount chasers. I know I have had to fix some disasters as a result. Bouncing around from stylist to stylist, even if the stylists are all talented, can have some adverse effects especially instance of color. Color lines are vastly different from one another!
I know in parts of the country outside of New York City this may not be a problem yet but here in New York, it is driving very talented and hard working stylists out of the business. For the time being, I'm not going anywhere. But I BEG of you, PLEASE put a stop to this. I charge even my friends but give them 20% discount MAX. Good friends will understand that this is how we make a living. So giving a complete stranger 40-60% off is sheer lunacy. Stick up for yourselves. Stop letting these agencies get rich by ruining a skill that so many of us have studied for years. I love my profession. I have a passion for what I do. Please join me in preserving it. Stop servicing YELP, Bloomspot, lifebooker, scout mob, groupon, living social and any other type of faceless company that is using us. Take a stand for the clients as well. In the long run this is hurting all of us.
Please repost this! Lets join together and make a stand. The more people that put their foot down against them the more likely these companies will fall.
Sincerely,
Michelle St. Darling
May 24
Model Call NYC
I'm really trying to amp up my portfolio. I don't have a date set but would like some updo models. If you are in New York city and interested in getting a free updo and some nice picture please let me know. I'll set the dates for this project once I get enough responses.
Feb 03
Let your hair down!
I'm often asked what kind of styling tools i use so in lew of us taking more time to let our hair down here are some of my favs!
The Blowdryer:
Elchim - Although the price tags for these suckers can be a little steep, this blowdryer will last you YEARS. It's a little heavier than the cheapo dryers but once you get used to it you won't even notice. The stronger the dryer the faster the speed of drying. It also gets pretty hot which makes it easier to create shape and movement with your style.
The round brush:
I'm a big fan of natural bristle brushes. I try to stay away from round brushes with the more wire like bristles and metal bases. I know some stylists that love them but I think they just get WAY to hot. They also tend to snag the hair a bit. The kind I have right now are Marilyn brand but if they look similar I'm sure other brands are just fine.
Flat iron:
Amika. Okay maybe I'm a little bias because I do freelance work for this company but I just LOVE these irons! Up to 410 degrees with a dial. 100% ceramic plates for better heat then metal irons. Beveled plates that swivel for more optimal styling and no crease lines from hard corners. AND they come in super cute colors and designs.
Hot Rollers:
I love love love hot rollers! And whereas usually I go for professional brand styling products I am thrilled with my Conair hot rollers! The reason is in the clips. The clips have a compartment where you clip them and they are heated as well. This way the section of your hair will be heated from the inside and out! This means longer lasting curl! And if you don't have enough of the size you want you can send away for more for just a few bucks!
Actual name:
Conair Xtreme Instant Heat Ion Shine Ceramic Technology Hot Rollers
Curling irons:
Hot tools. You can never go wrong with hot tools! They are pretty reasonably priced. They last forever! I've had mine over 10 years. They come in any shape and size you could possible want. And they have a dial to control the temperature.
Happy Styling!
Feb 02
Flat out curl. Curling with a flat iron.
Jumping right in here. Section in thin section of hair. Clip the flat iron at the root of the section.
Slide the iron down the section slightly and start to rotate the iron. Make sure you hold the ends to feed them into the iron.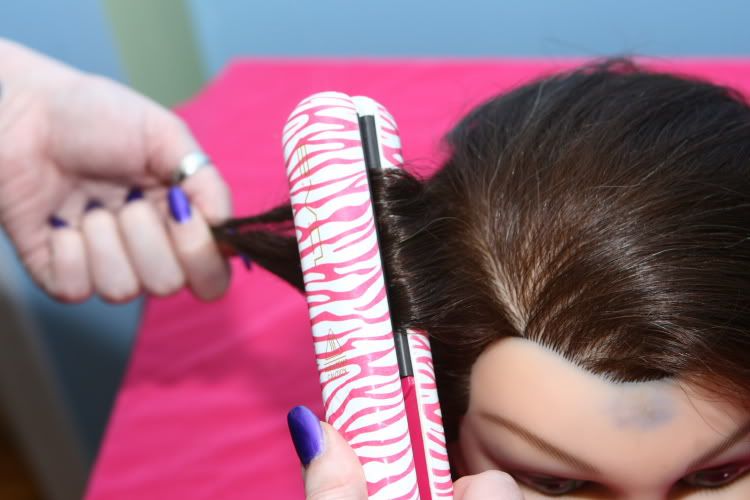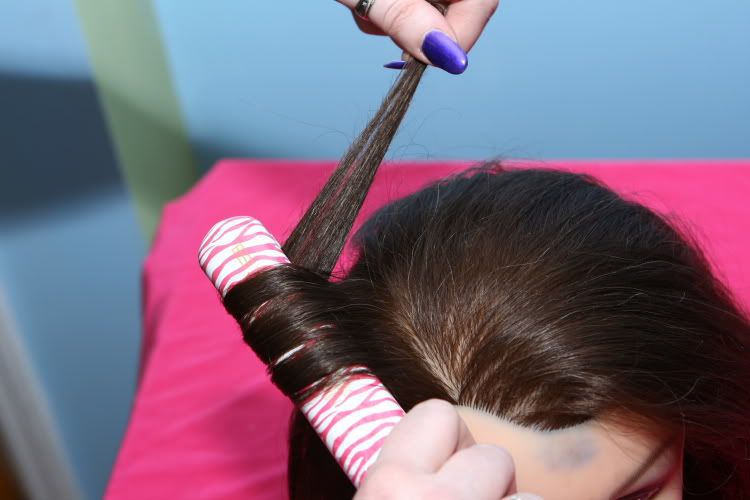 Once you make one full rotation the hair should be feeding in through the bottom again. Now slide the iron down the section while holding the ends and feeding them into the iron. If it's to tight to slide open and close the iron while moving down the section.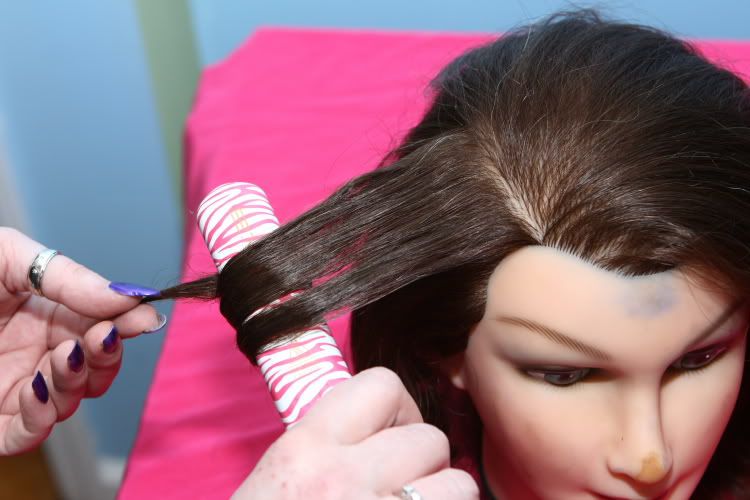 There you have it! You magically made a curl from a flat surface!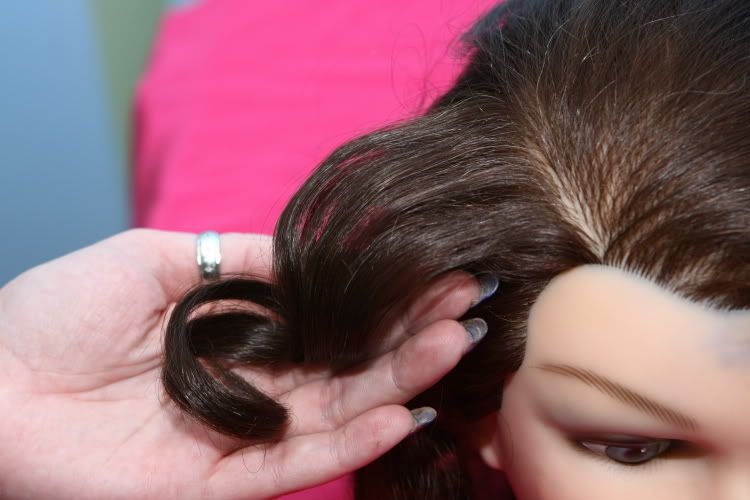 Feb 01
You're doing it wrong. The curling iron article.
I know you are. I know you ALL are. It's okay I'm here to help. You take that scorching hot iron and slide it to the crispy ends of your hair and roll it up. Then you take the iron out and let that curl fly. Soon enough your roots are straight and the curl is just a wave in the ends.
So here's the deal. When you roll from your ends not the entire hair strand gets the right amount of heat. Then your ends get too much. By the time you roll up to the root the hair has to penetrate through the ends and the mid shaft to heat up the root. Then when you release the hot hair you let it hang and the curl starts to fall out because the curl wasn't allowed to cool in the right shape.
Be forwarded. This may be tricky to get the hang of. Once you do though you'll be impressed by how bouncy and full your curls will be.
First start with a section slightly smaller in thickness than the barrel of the iron you choose.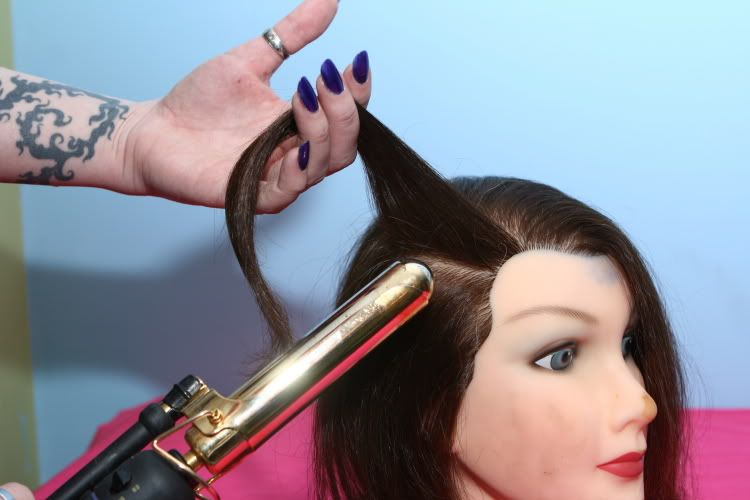 Clip the iron on the section by the root while holding onto the ends.
Slide the iron down slightly and begin to turn the iron. Keep a hold on the ends and follow them around while feeding them into the iron.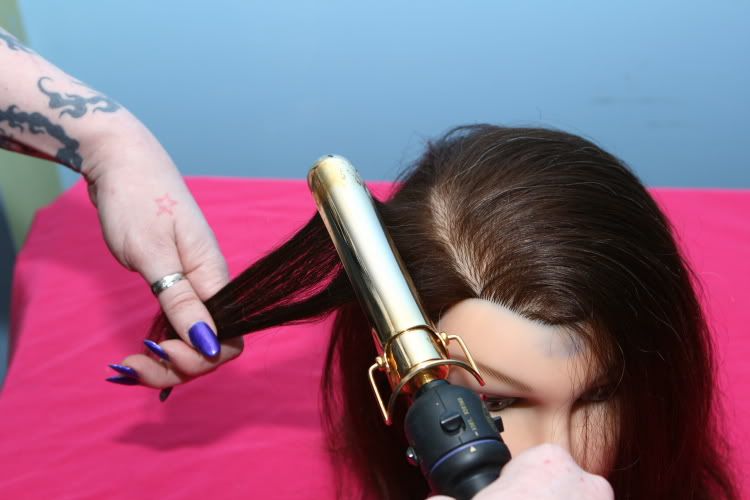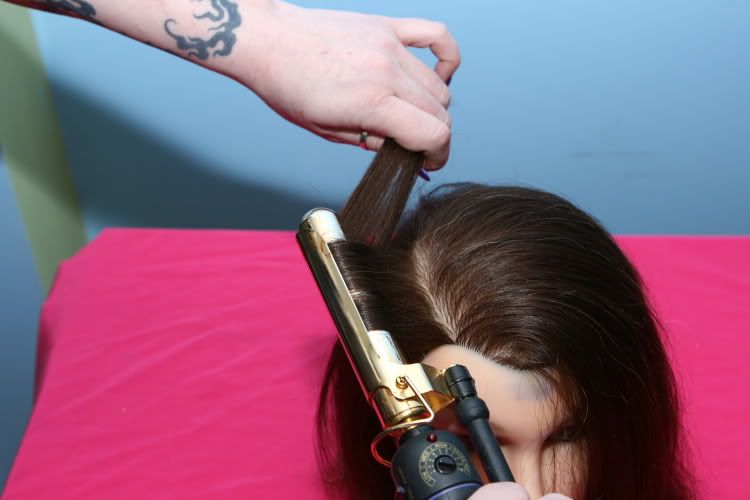 Continue leading the ends into the iron by opening and closing the iron while turning continuing the curl.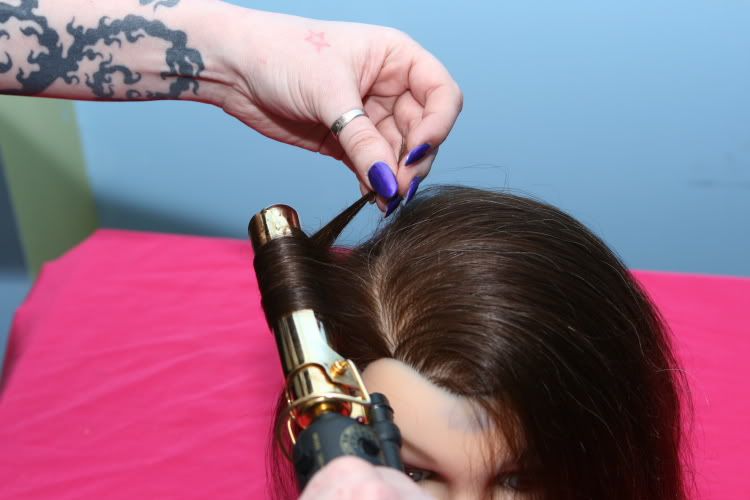 Once the ends are completely fed into the iron let it set for a few seconds. Open the iron and slide it out while keeping the curl in tact.
Clip the curl in place to cool.
Repeat this all over your whole head then mist with hairspray. Allow the pinned up curls to stay in until the entire head has cooled. The result will be a more bouncy and long lasting curl from root to ends.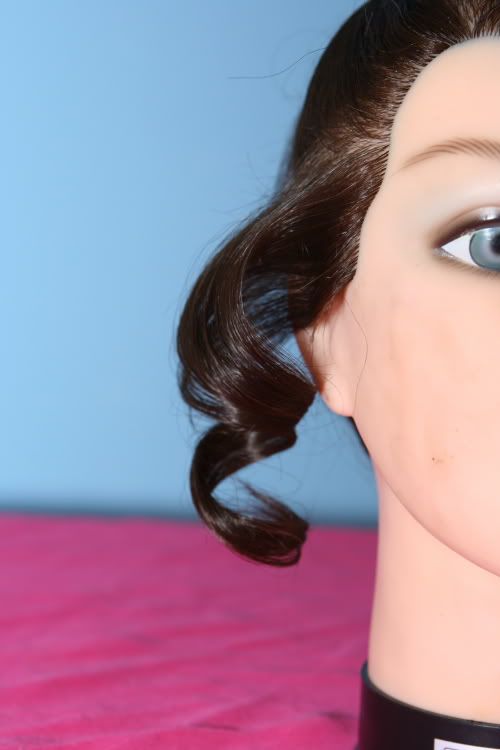 Remember the barrel size will make a bigger or smaller curl.
A bigger barrel will leave more of a body wave.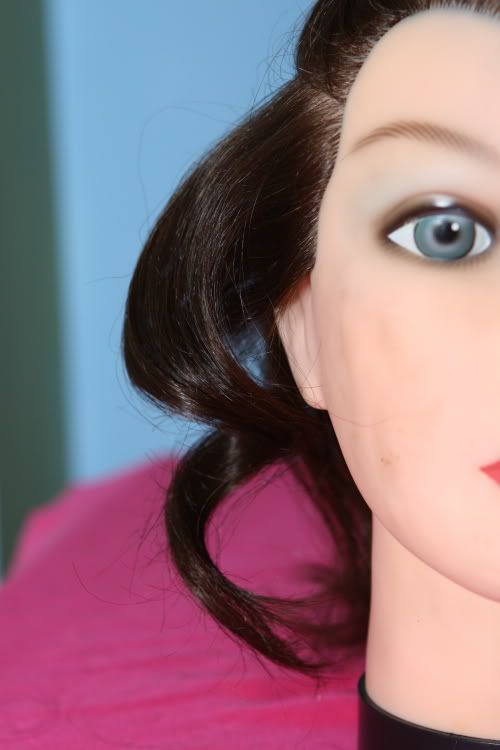 And a smaller barrel will make a tight curl.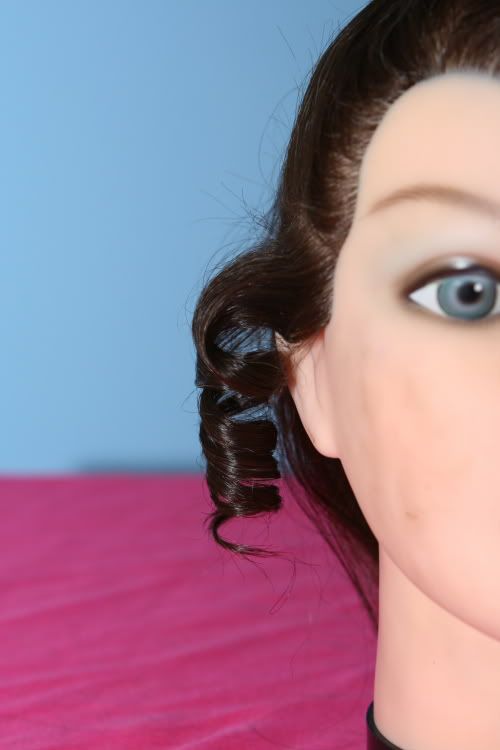 Once again these are tricky but you'll get a much better result with a bit of practice.
Jan 31
rollin, rollin, rollers!
The same basic rules apply to all types of rollers. You want to take a section of hair slightly smaller in length and width than the size of the roller you choose. This is probably the most common error in setting rollers. If your sections are too big you won't get a consistent curl. Also depending on the method the hair might not get enough heat or won't dry well. Also if you remove the rollers too soon and the curl is not completely dry or not completely cool. The set will then fall out. Another thing to be very aware of is the ends of the hair. If the ends aren't wrapped around the roller they won't curl and will look sloppy and bent. I recommend using a setting lotion when setting your hair wet. It adds a slight tackiness to the hair that helps setting easier. Don't worry. It will still dry soft.
Since they are my favorite let's start with sponge rollers. Start with significantly wet hair. Apply your setting lotion and comb through. Start at the top take a section slightly smaller in width and length that the roller size you choose.
Make sure the hair is combed and elevated the section. Smooth the ends of the hair over the rollers.
The ends are very important. Make sure the are tucked in. Start rolling the roller down with enough tension to keep the hair wrapping smoothly over the roller.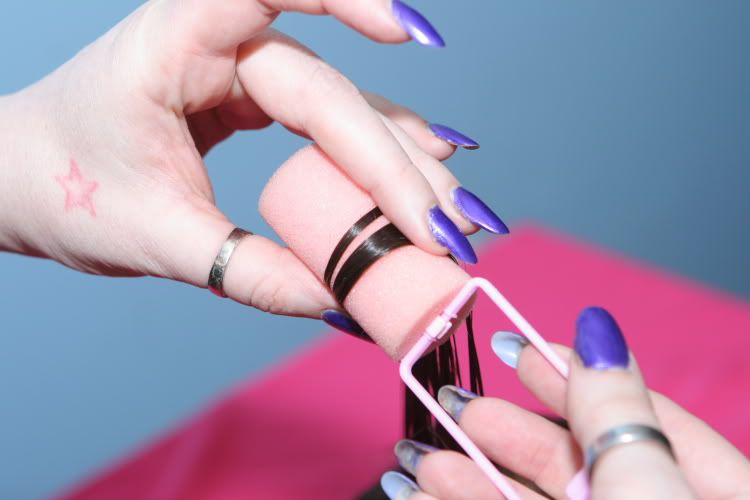 When you get to the base turn the clip so you can swing the arm over the top of the roller and snap shut.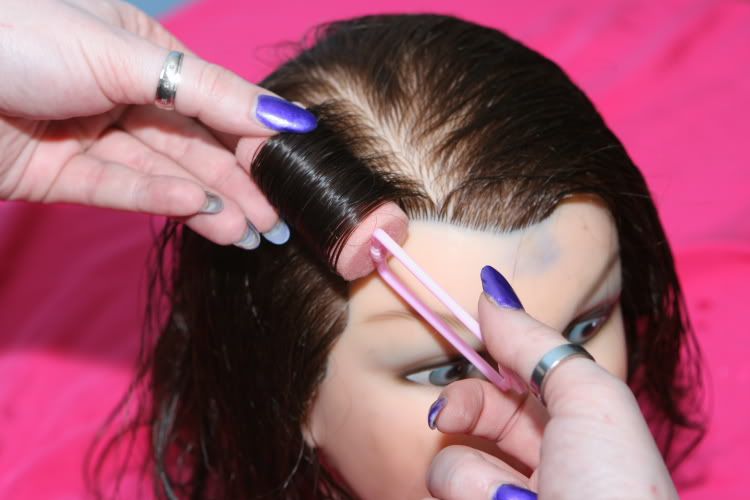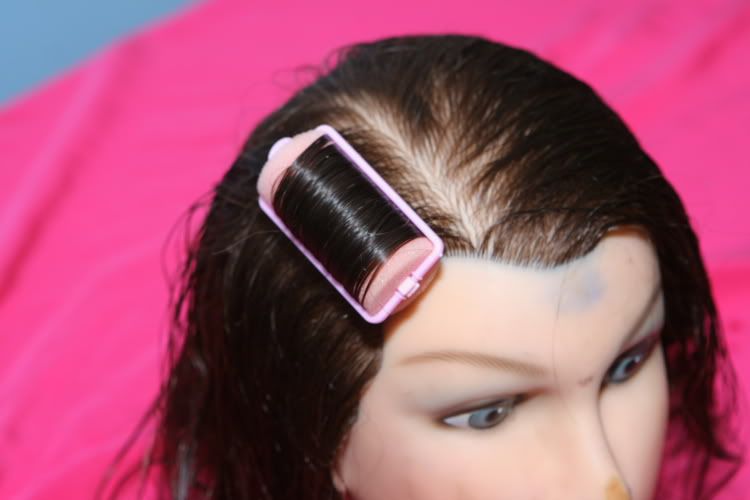 Remember with sponge rollers to control your tension. If the tension is too tight it will squeeze the roller and your curl will be smaller than you want.
The method with vented rollers is pretty much the same. The section should be smaller in width and length than the roller.
Elevate the section and smooth ends over the roller.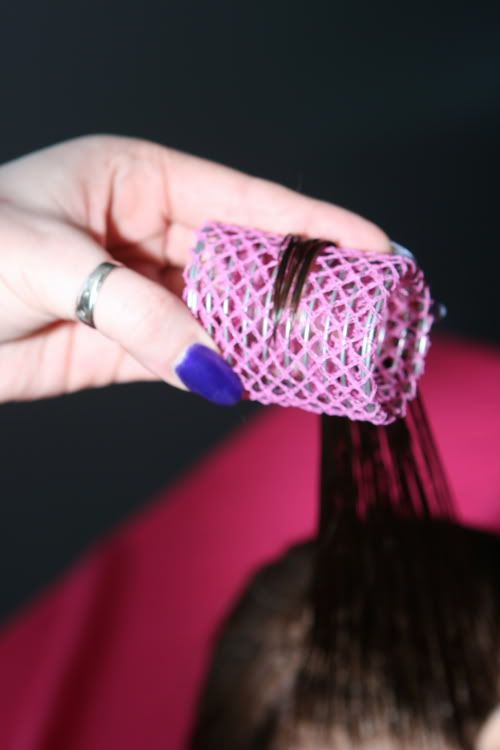 Make sure the ends stay on the roller and keep tension and you roll the roller down to the root.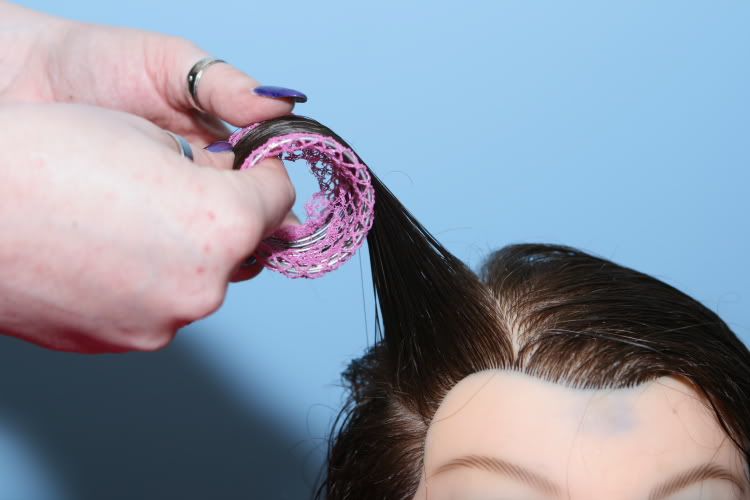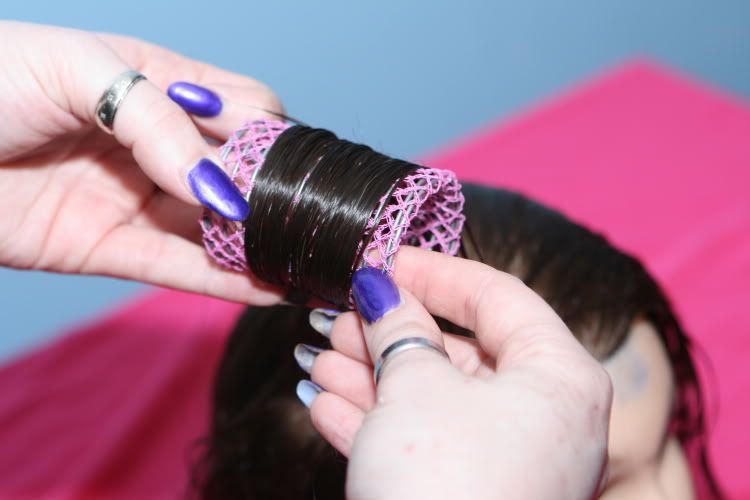 Secure the roller with a roller clip.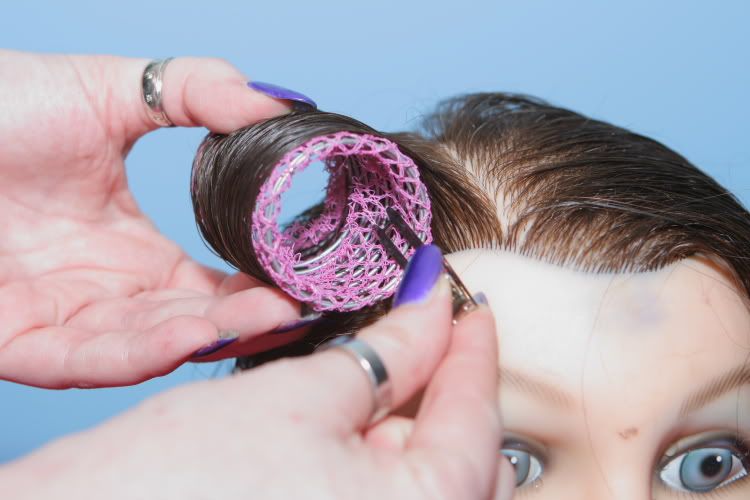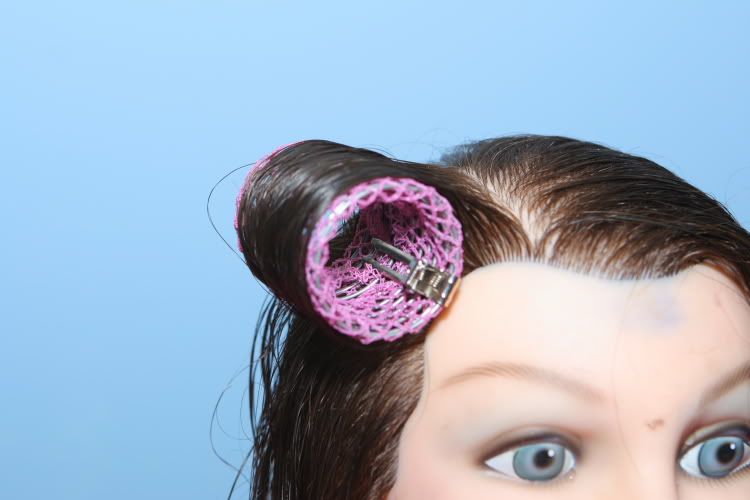 Now onto hot rollers. The hair must be completely dry for hot rollers to work. Same as before the section need to be slightly smaller than the roller.
Elevate section and smooth ends over roller.
Make sure ends stay tucked and roll the roller down to the base while keeping tension on the section.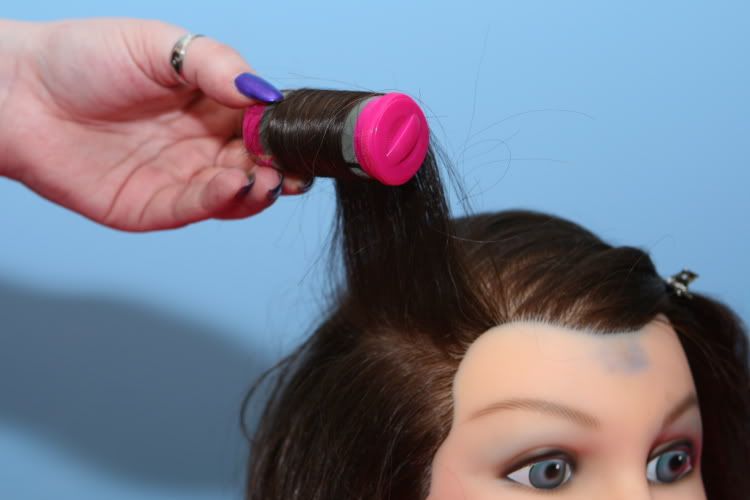 Clip section secure at the root.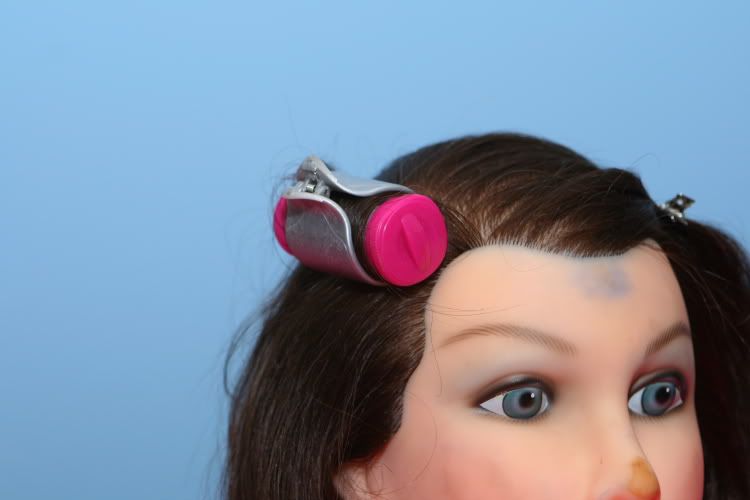 I recommend misting the whole head with a light hair spray and letting the hot rollers cool completely (10-15 minutes at least) before removing.
Remember that these techniques are not the easiest thing to master so be patient and practice. The more to do it the better you will get. Mind the ends and keep the tension and you'll have beautiful and bouncy curls.
Jan 25
curl up and dry! the wet set basics.
I'm going to preface this  by saying that although wet setting can be time consuming and kind of annoying to get the hang of, I believe it makes for the most beautiful and shiny result. It also it the least damaging and the most long lasting way to create curls.
There are several types of rollers available for Wet setting. Sponge and soft rollers or hard and vented rollers are typically used in wet setting. Deciding which is best for you is determined by the tools you have available to you and the amount of time you have to wait for drying. Since hard rollers are impossible to sleep on soft and sponge rollers tend to be more popular these days. If rollers are taken out before the hair is completely dry the curl with completely fall out.
Since the complete dryness of this method is necessary lets first take a look at available tools for wet setting at home. Although sponge rollers can be slept in you can also use these dryers to speed up the process.
Hair dryer with Diffuser:
A diffuser fits on the end of your blow dryer and will keep the air flow from your dryer from becoming too strong and breaking up the curl. Although these are the most readily available tools, because you can only concentrate on one section at a time it will take quite a bit of time and you may loose interest and give up. Even drying with the faster methods can take up to an hour or more.
Hooded dryer:
You remember those photos of old ladies in the salon sitting under dryer with their roller set? Well, now they have desktop versions of those dryers for home use. Whereas they are extremely effective at speeding up the drying process, unless you are planning on roller setting often this is kind of a bulky accessory to have laying around your house.
Bonnet Dryers:
Okay, these look absolutely ridiculous, I know. They were more commonly used in the 60's for home use. But for home use, I find, they are the most convienient and compact. They are large bonnets that look like a very large shower cap. They fit over even the largest rollers and when turned on fill up to look like a large bubble on your head. As silly as you will feel wearing it you can't deny the result.
Look for the how to in the next blog on how to roll and place various types of rollers.